Reading Time:
< 1
minutes


Papiamento tin mi manera cu e kier tin mi,
cu e idioma aki mi no mester pensa cua
palabra ta cuadra y cua no. Ta manera
e sa ta kico mi mester pa expresa mi mes.
Papiamento ta habri su mannan pami
y ta tenemi eynan. Pa con largo cu e kier y min
ta protesta. E idioma ki ta esun cu mi ta soña aden.
E sa kico mi kier logra den bida, prome cu
Ingles of Spaño mishi cun'e.
Den mi mente, e ta e rey.
y e sa esey. E ta planta poema,
ta e ta planta ley.
Semper lo mi acudi na dje prome,
aunke den proceso mi traducie.
Papiamento ta mi prome amor,
e ta kibra mi curason, den
un manera cu ta sinti asina bon.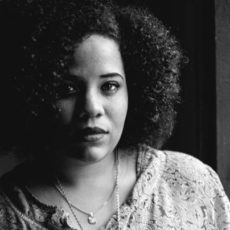 Poet, inter-sectional feminist, Media and Communications student and creative writer.