Reading Time:
5
minutes


"La da di do di da dey… tin hopi cos pasando cu nos no por ripara…"
"Da da di do di de dey… listen to the message but don't kill the messenger…"
– Beach Lama
Beach Lama, pseudonimo di Eribert Delamare, t'un obrero cultural radical den su interpretacion di historia socio-cultural Arubano. Como performance artist, declamado, orado y cantante di kaiso/calypso. Beach ta trata cu temanan di herencia Caribense complica manera colonialismo y sclavitud den un luz refrescante. Bou e luz ki e no ta purba core pa su implicacionnan, mustrando claramente kico a pasa y con el a pasa. T'e actitud aki mes ta trece trankilidad pa un hende cu anteriormente no sa mucho tocante e tema of a siña na scol fragmentonan di e historia, sin pone mucho atencion riba dje.
Historia di sclavitud y colonialismo den mundo post moderno
Un bunita ehempel di esaki a tuma luga na museo historico unda Beach ta presenta semanalmente na nan Bon Bini Festival. Riba e podium dilanti un audiencia di turista cu di gran parti ta bin di Merca– y ta mas tanto di descendencia Europeo blanco– Beach ta conta storia di Virginia Dimentricia. Un esclavo cu na su tempo a rebeldia varios biaha pasobra e no tabata nada contento pa sirbi niun shon blanco. Pa su rebeldia e autoridadnan a cera sra. Dimentricia na Fort Zoutman, cual enbes di un museo tabata un prizon antes. Aki el a ricibi e castigo maximo pa rebeldia.
Shonnan, na un isla turistico unda pa henter historia di turismo ta purba sconde realidadnan di e tera pa su bishitantenan pa miedo di perde forsa economico, esaki ta innovacion. No parce cu tin otro luga of otro artista cu activamente ta purba traspasa e conocemento aki na tanto generacionnan nobo como bishitantenan, cual ta importante mirando cu bo sa tende riba caya cu riba Aruba nunca tabatin esclavo durante temporada di sclavitud…
Pero bon, pa sr. Delamare mes e importancia den sa di unda bo ta bin ta pa haya sa unda bo ta para y unda bo ta bayendo. E artista ta pone esaki den contexto di un conocemento personal di bo propio historia, pero por medio di esaki por bay forma un identidad mas concreto pa un pais tambe. 'Mas bo sa, mas bo por expresa y mas bo por empatisa cu bo prohimo', sr. Delamare ta splica despues di dirigi e evento mensual di poesia di Basha Foundation.
This slideshow requires JavaScript.
Beach: guia entre periodo historico y desaroyonan diario
E esencia di su mensahe ta cu pa por tin un historia completo di bo mes, 'bo tin cu cuminsa cu henter e historia di bo medio ambiente y bo pais, daar gaat het eigenlijk om'. Particularmente interesante ta e manera con e ta conecta historia cu desaroyonan awendia. E paralelismo cu e ta pinta entre ceramento di Lago cu habrimento (eventual?) di Citgo ta un di e ehempelnan concreto unda Beach ta sirbi como un guia historico y cultural pa hende haya un contexto completo y no abrupto di loke ta pasando rond di nos.
Pero tin un aspecto cu ta trata mas cu confrontacion contemporaneoden su trabou, cual e ta expresa por medio di canto den genero di kaiso/calypso.  Cultura Sincero, cual ta Beach su representacion riba medionan social ta cuadra cu e temanan cu Beach a sa di trece dilanti, unda ta pone na luz problemanan social, economico y cultural cu ta toca e gruponan mas simpel den comunidad di Aruba.
"Aruba is a happy island yes it's true
But there's so many things that is still taboo
Domestic violence murder rape and child abuse
All kinda phobia philia and psychological issues
On top of that we have a keda keto mentality
Helping the culprits escape any penalty
I think it's time we criya some wesi lomba
Raise we voice and bula cabez dje boa"
– Couplet di Identity Crisis, Beach Lama 2018
Reflehando riba su manera di toca temanan di violencia domestico y otro asuntonan taboo na Aruba, Beach ta haya cu na Aruba tin un tendencia di ta hopi sensibel na topiconan dificil, pero e sensibilidad aki ta disparce despues di tiki tempo. "Mi ta sinti cu tin capacidad pa empatia grandi, y cu nos tur ta worry, pero e drive pa haci algo mi ta sinti no t'ey personalmente."
Esaki ta un tendencia cu e ta haya ta relaciona na e structura herarkico cu ta existi, 'pasobra ora nos ta mira di abou ta poco bo por haci. Y si bo mira ey riba sin haya un ehempel pa inspira y motiva, dificilmente un comunidad lo bay sigui un ehempel cu mi ta pone den un cantica'.
'Cultura ta mas cu djis folklore'
Mester menciona si cu Beach ta haya un distincion importante entre artista y obrero cultural, cual ta e termino cu e ta prefera pa personanan laborando den industria creativo y cultural na Aruba. "Nos ta djis trahadonan pa cultura na Aruba. Nos no ta mira nos mes como artista di luho. Nos mision como obreronan cultural ta pa e desaroyo di cultura bay dilanti, pero tambe pa e preservacion mi ta haya."
Un mentalidad cu sr. Delamare ta haya cu mester cuminsa cambia ta cu cultura solamente ta encera folklore, cual Beach ta haya no ta cuadra cu e realidad. Pe, cultura no ta mara na tradicion solamente, si no cu ta e esencia di un sociedad y su manera di ta. "Nos ta tuma inspiracion di nos medio ambiente, den un tempo particular, den un esfera social particular y nos ta refleha esaki bek loke nos ta traha, pasobra nos ta obrero cultural."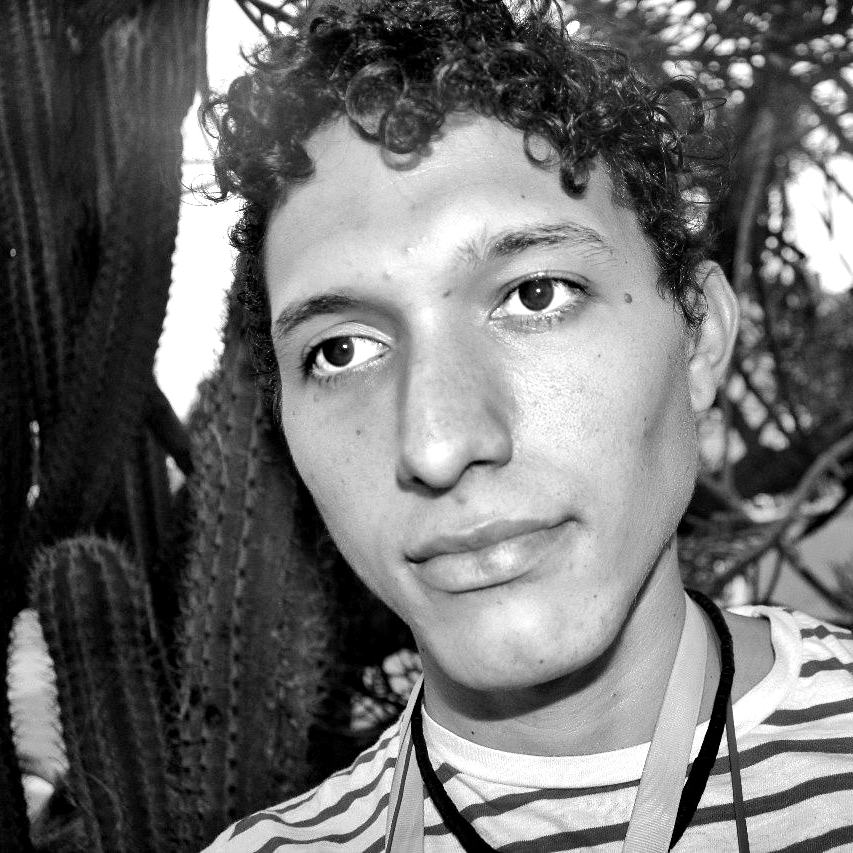 Venezuelan-born Aruban writer currently working as a journalist. In his work as a poet, essayist and journalist he focuses on the complexities of identity and how formal structures impact them.